Welcome to a new journey in search of coffee flavors!
In 1879, Carl Solberg and Fritjof Hansen met, two coffee-loving gentlemen who laid the foundation for Solberg & Hansen to see the light of day.
Since then, we've traveled the world searching for the best ingredients to bring you the finest flavors the world has to offer.
Here you can learn more about the origins of coffee and test your knowledge in the "coffee quiz".
Click on the different continents to learn more.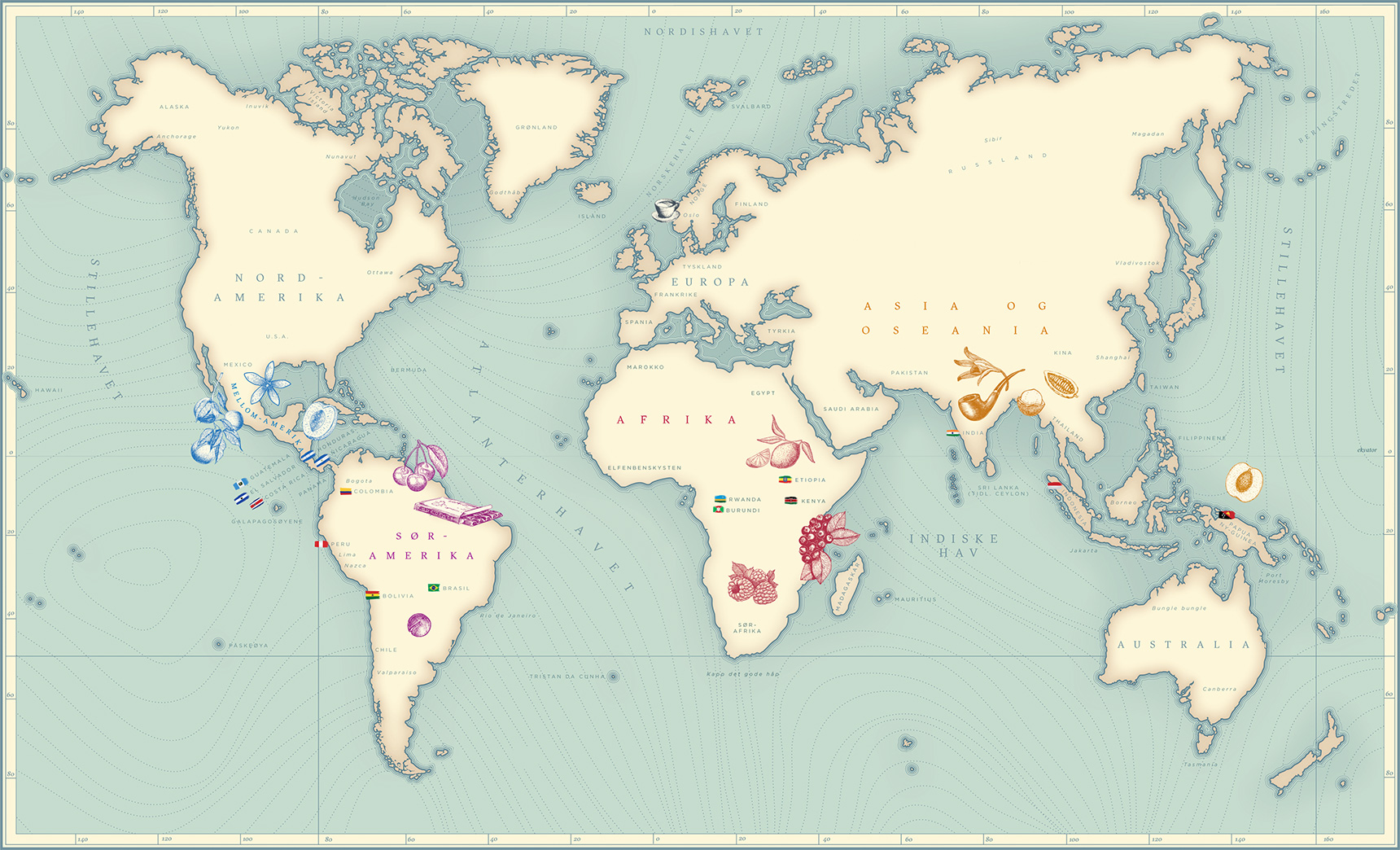 Africa
Distinctive and flavorful coffee. Fresh and fruity varieties with blackcurrant, citrus and red berry flavors.
What does coffee taste like in different countries
Kenya
Blackcurrant, red berries and citrus
Ethiopia
Citrus, bergamot and floral notes
Burundi
Flowers, stone fruit and berries
Rwanda
Dried fruit, red berries and orange
Read more about coffee from Africa
Asia and Oceania
Full-bodied and earthy flavors. The coffee is sweet, low in acidity and has references to cocoa, spices, nuts and tobacco.
What does coffee taste like in different countries
Indonesia
Stone fruit, cocoa, dried fruit and nuts
India
Chocolate, tobacco, spices and vanilla
Papua New Guinea
Cocoa, tobacco and sweet, dark fruit
Read more about coffee from Asia and Oceania
Central America
Coffee with clean and juicy flavors, a good balance between sweetness and acidity and references to stone fruit, berries, caramel and chocolate.
What does coffee taste like in different countries
Guatemala
Stone fruit, chocolate and flowers
Nicaragua
Chocolate, plum and caramel
Honduras
Vanilla, chocolate and caramel
El Salvador
Chocolate, caramel, spices and apple
Costa Rica
Stone fruit, berries and floral notes
Read more about coffee from Central America
South America
Full-bodied and sweet coffee with rounded flavors of chocolate, dried fruit, nuts and cherries.
What does coffee taste like in different countries
Brazil
Nuts, chocolate and dried fruit
Colombia
Cherries, stone fruit and chocolate
Peru
Red berries, citrus, caramel and cocoa
Read more about coffee from South America
flavor
mapThe world's
different coffee flavors
Flip your tablet to use flavor maps